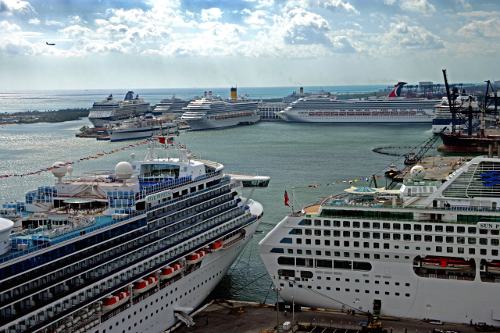 You may be surprised to find that Port Everglades is NOT actually in the Florida Everglades. Many people believe this, but it is an incorrect assumption.
Port Everglades is actually located just two miles from Fort Lauderdale Airport FLL. The exotic Florida Everglades, however, is located about 23 miles to the west.
Port Everglades takes second place among cruise ports worldwide. It also has more home-ported cruise ships than any other port. There are 9 cruise lines, 1 ferry service and 34 cruise ships servicing the Port.
Port Everglades has set multiple records for the number of cruise guests passing through the port in a single day. It has the distinction of having had more than 3.7 million passengers through it's doors. Porthole Cruise Magazine named it "2013 Best Domestic Port" and it was selected as "World's Top Cruise Port" by Seatrade Insider.
Port Everglades is proud to participate in the Global Entry Program of the U.S. Customs and Border Protection Agency. Global Entry is a program that allows expedited clearance to pre-approved, low-risk travelers upon arrival back in the United States. It's goal is to speed travelers through the arrival process. Upon arrival, Global Entry participants can follow signs that will will direct them to the front of the line in all cruise terminals. These travelers must currently be enrolled in the Global Entry program and have gone through the approval process.
Getting There
Address:
1850 Eller Drive in Fort Lauderdale, FL 33316
The sea buoy for Port Everglades is located at:
26° 05.5' North Latitude
80°04.8' West Longitude
Located on the southeast coast of Florida, Port Everglades is accessible by car, taxi, bus and rail.
You can enter Port Everglades in three ways:
– The 17th Street Causeway entrance which is located at Eisenhower Boulevard
– State Road 84 entrance located just off of US 1 and the I-595 East entrance
– I-595 East
Each entrance has a security checkpoint. Cruise guests and visitors age 18 and older must provide a government-issued photo ID and cruise documents at the security checkpoint.
By Road
The Port is accessible from I-595, I-95, I-75, US 1 (Federal Highway) and Florida's Turnpike.
From I-95 south, take Exit #26 to I-595 East. Exit 12b, to Port Everglades.
From I-95 north, take Exit #24 to I-595 East. Exit 12b, to Port Everglades.
From I-75 north or south, take Exit #19 to I-595 East. Exit 12b, to Port Everglades.
From the Florida Turnpike north or south, take Exit #54 to I-595 East. Exit 12b, to Port Everglades.
By Air
Port Everglades is conveniently located adjacent to Fort Lauderdale-Hollywood International Airport (FLL), which is is just minutes to Port Everglades.
Miami International is 27 miles south of Port Everglades.
Palm Beach International is 50 miles north of Port Everglades.
Note: Allow two to four hours between flight arrival and cruise check-in.
Good To Know
Parking is $15 daily
Fort Lauderdale-Hollywood International (FLL) is located next to the Port Taxis
Vans and shuttle buses are also available
There are three conveniently-located entrances
Have your cruise documents and government-issued photo ID (driver's license or passport) ready when arriving at the Port's security checkpoint
Motorists picking up cruise passengers can wait in our free cell phone lot until their party is ready for picked up